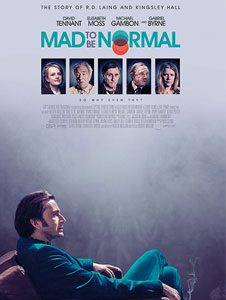 play Trailer

Mad to be Normal
Running time: 105 mins
Coming Soon
Synopsis
Mad To Be Normal reveals the story of R.D. Laing, the famous psychiatrist and one of Scotland's greatest ever minds. Working out of Kingsley Hall in East London - a medication-free sanctuary which made headlines around the world - throughout the 1960s and 1970s, Laing performed various daring experiments on people who were diagnosed as mentally disturbed.
During the 1960s and 1970s Laing was an international celebrity. In Santa Monica, 4,000 people turned out to see him perform a lecture, a week after Bob Dylan had pulled in the same number. A radio journalist confidently referred to him as the "white Martin Luther King."
His revolutionary methods involved experimenting with LSD on his patients and practicing a form of self-healing known as metanoia, causing outrage and controversy in the medical profession and radically changing attitudes and perceptions of mental health around the world.