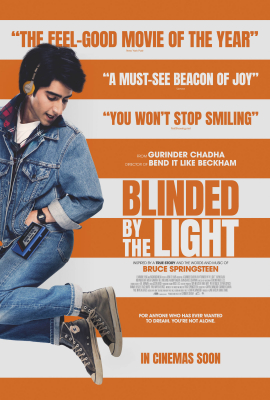 play Trailer

Blinded By The Light
Running time: 114 mins
Coming Soon
Synopsis
Javed is a British teen of Pakistani descent growing up in 1987 England. Amidst the racial and economic turmoil of the times, he writes poetry as a means to escape the intolerance of his hometown and the inflexibility of his traditional father. But when a classmate introduces him to the music of Bruce Springsteen, Javed sees parallels to his working-class life in the powerful lyrics. As Javed discovers an outlet for his own pent-up dreams, he also begins to express himself in his own voice.
Blinded by the Light, developed from Gurinder Chadha and British journalist Sarfraz Manzoor's shared passion for Bruce Springsteen and based on Manzoor's celebrated rite of passage memoir Greetings from Bury Park, chronicles his experiences as a British Muslim boy growing up in 1980s Luton and the impact Springsteen's lyrics had upon him.
The film stars Kulvinder Ghir (Still Open All Hours), Hayley Atwell (the Avengers franchise), Rob Brydon (The Trip), Sally Phillips (Bridget Jones's Diary) and newcomers Viveik Kalra (Next Of Kin) and Nell Williams (Game of Thrones).
Rating Advice
racist language and behaviour, moderate bad language