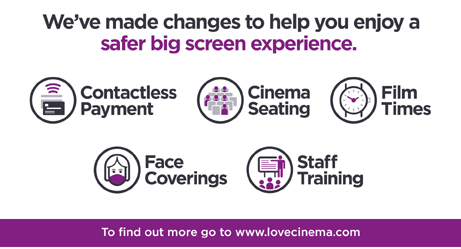 As we reopen following the lockdown, we've introduced a number of measures to keep our staff and customers safe from the Covid-19 virus - including plexi glass screens at the counters, and enhanced cleaning before and during each show. These have been developed after consulting the government guidelines, and the advice drawn up by the UK Cinema Association in conjunction with the government. We would ask all our visitors to adhere to any guidelines or requirements we make, for everyone's safety.
This information may change as the official advice is updated.
If you have any questions about these measures or need any assistance during your visit, please contact us on admin@wottoncinema.com.
As of Wednesday 2 December, we are in a Tier 2 - high alert - area. This means that you can only mix indoors with members of your individual household, plus support or childcare bubble. You should avoid travelling from a Tier 1 or Tier 3 area. Information on what is and is not allowed in Tier 2 can be found here.
Before you arrive
Social distancing means that the number of seats we are able to sell has reduced considerably. For that reason, we strongly advise you to book your tickets in advance. You can do this online at any time, or by calling 01453 844601 when we're open for screenings. You can leave a message on this number if we're away, or can't get to the phone - we will get back to you as soon as possible.
We are introducing numbered seating to enable us to keep parties safely distanced, with a space of approximately 1.5 metres between groups. If you are booking for your household or social bubble, please book your seats at once to enable you to sit together.
You may only mix indoors with other members of your household or support bubble.
When booking online, your seats will be automatically assigned, working from the rear of the auditorium. If you have specific needs regarding your seating, please get in touch - we will do our best to accomodate you.
If you are experiencing symptoms of Covid-19, do not come to the cinema.
Provided we have advance warning, we can return your tickets for resale or transfer your booking to a different screening. You can find more information about symptoms on the NHS website.
When you arrive
Please remember to wear a facemask, in the foyer area and in the auditorium during the film. The use of masks in venues including cinemas is mandatory, aside from medical exemptions. You may remove your mask in the auditorium if you are eating or drinking. We would remind adults that any children in their party are their responsibility.
You can collect your pre-booked tickets from the box office as before, and purchase sweets and drinks. As we are currently in Tier 2, we are unable to sell alcohol.
Our toilets will be open as usual, but on a one-in, one-out basis to avoid crowding. Hand towels will be available rather than air dryers. We have installed a hand sanitiser dispenser at the box office.
Licensed premises are now legally obliged to collect contact information from customers in case they are needed for the NHS Track and Trace programme. Online bookings will require you to consent to this, but if you are buying tickets over the counter, you must supply your name and contact phone number. We will keep any paper records of your details for 21 days, then destroy them.
We will be using two entry doors to the auditorium - one for rows A-F, and one for rows G-L. If you need help finding your seat, the staff will be happy to help.
You must sit in your assigned seat, even if the auditorium is not busy. Online bookings will be allocated the next available seats, working from the rear of the auditorium. If you have particular seats you wish to book, we would recommend buying by phone.
If you wish to change your seat, please ask a member of staff, who will accomodate you if possible.
After the film
Please leave by the nearest exit.
● Support for independent cinemas this Christmas reaches £16 million, as Culture Secretary Oliver Dowden...
Read More
Young adult romance Philophobia has UK theatrical release from 30 October Philophobia (which means 'fear of...
Read More
London – August 20, 2020: Cinema First, the industry body charged with the promotion of...
Read More
Sadly, following current government advice, we feel we have no alternative other than to close the...
Read More