Gift Vouchers for the Electric Picture House Cinema can now be purchased online!

It is now possible to buy Gift Vouchers for £10, £20, £30 or £50. Buy online and you will be sent a link to a voucher which you can download or print off. Each voucher has a code which you can use when buying tickets online; fill in the 'Gift Voucher' box on the payment page.
Click here to buy gift vouchers.
Would you prefer a physical Gift Card? We sell them too!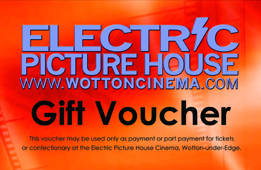 Our credit card sized Gift Cards are only available from the box office, to a value of your choice. Each card has a unique serial number on the reverse which you can redeem online (use the 'Gift Card' box on the payment page), over the phone, or in person.
The Gift Cards can be purchased in person from the box office, or over the phone - call us on 01453 844601.
● Support for independent cinemas this Christmas reaches £16 million, as Culture Secretary Oliver Dowden...
Read More
Young adult romance Philophobia has UK theatrical release from 30 October Philophobia (which means 'fear of...
Read More
London – August 20, 2020: Cinema First, the industry body charged with the promotion of...
Read More
Sadly, following current government advice, we feel we have no alternative other than to close the...
Read More