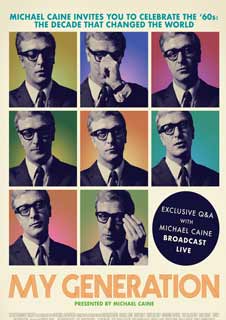 play Trailer

My Generation + Live Satellite Q&A with Michael Caine & David Batty
Running time: 130 mins
Coming Soon
Synopsis
This engaging and playful documentary, narrated by and starring the inimitable Michael Caine, chronicles the cultural revolution of the Swinging Sixties and the societal upheaval it cause that still resonates today.
Sourced from over 1,600 hours of footage, extensive research and over 50 interviews with key players, MY GENERATION is an insider tour of a defining era.
The screening is followed by a Q&A with Michael Caine and director David Batty, broadcast live from the BFI.
Rating Advice
Drug misuse and references, nudity