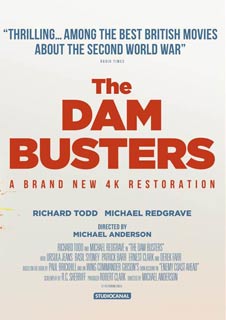 The Dam Busters
Running time: 122 mins
Coming Soon
Synopsis
Regarded as a British classic, The Dam Busters is directed by Michael Anderson (Logan's Run/Around the World in 80 Days). Based on the legendary true story of Commander Guy Gibson and his squadron, The Dam Busters (1955) captures all the thrilling action and suspense of the magnificent exploits of a group of young pilots and their crews, charged with taking out the supposedly impenetrable Ruhr river dams of Germany with an ingeniously designed bouncing bomb.
Scientist and engineer Dr Barnes Wallis (Michael Redgrave) believes destroying Germany's Ruhr dams can paralyse the enemy's industrial nerve centre, thus shortening WWII. After much persuasion, permission is finally granted to develop the bombs and aircraft capable of such a task and a special squadron is drafted in to carry out the raids. Led by dashing Air Ace Wing Commander Guy Gibson (Richard Todd), 617 Squadron begin intense training in order to master the modified Lancaster bombers they will pilot in the raid. Unaware of their target until the day of their mission, the airmen set out on a brave and perilous journey that could change the course of the war. Back home in the Group Ops room, Wallis tensely awaits news of the mission. But did his plan succeed? And will the planes all return unscathed?
The impact of The Dam Busters on modern filmmakers spans the decades: director George Lucas hired the film's special effects photographer Gilbert Taylor to work his magic on the original Star Wars; and The Lord of the Rings director Peter Jackson has long been attached to a remake, based around a screenplay by actor/writer Stephen Fry.