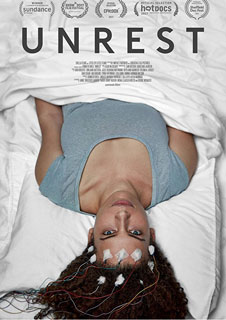 Unrest
Running time: 98 mins
Coming Soon
Synopsis
Twenty-eight year-old Jennifer Brea is working on her PhD at Harvard and months away from marrying the love of her life when she gets a mysterious fever that leaves her so ill she becomes bedbound, often in excruciating pain, and looking for answers. Disbelieved by doctors and determined to live, she turns her camera on herself and her community, a hidden world of millions confined to their homes and bedrooms by Myalgic Encephalomyelitis, also known as Chronic Fatigue Syndrome.
Unrest is, at its core, a love story. How Jen and her new husband forge their relationship while dealing with her mysterious illness is at once heartbreaking, inspiring and funny.
Showing as part of the 2018 Stroud Film Festival.